Troubleshoot Problems with Coin Price Updates
Occasionally the Coin Tracker may fail to update price information for one or more coins. Here are some possible reasons and how to best troubleshoot such problems.
On starting, the Coin Tracker will immediately try to connect to each of the crypto exchanges and retrieve some basic information. You can take a look at this process by clicking the name of an exchange. This is what successful initialization looks like: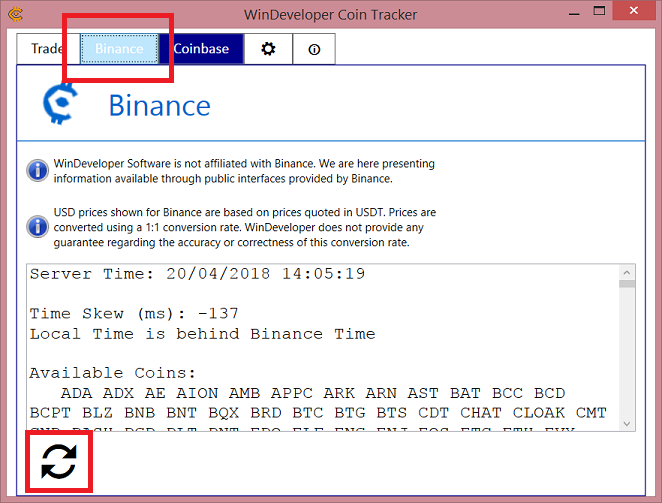 Different exchanges will show different reports. However if initialization fails the report area will be empty and only contain an "initialization failed" error.
In case of failure, price information for that exchange will not show up. You can try re-initializing by clicking the refresh button at the bottom.
Of course for initialization to work a good internet connection is required. If none of the crypto exchanges are working, a bad internet connection is the most likely reason.
If only one of the exchanges fails to initialize there might be a temporary problem from the crypto exchange side. Crypto exchanges will normally report downtime or any problems they might be experiencing on their own web site and social media feeds. So it's a good idea to check these out.
It is also a good idea to try logging onto the crypto exchange directly using the crypto exchange web interface. This again will help you confirm if the crypto exchange is undergoing some maintenance or is temporarily off-line.
In case the problem only concerns 1 particular coin (or just a few) there is the possibility that exchanges might have discontinued supporting that coin. Again this information should be available from the exchange's news feed.
For more information feel free to contact us and report the problem.
All product and company names herein may be trademarks of their respective owners.