WinDeveloper OWA Recall Browser Support
WinDeveloper OWA Recall is an MS Exchange Outlook Web Access/App add-on. It extends the OWA interface providing the ability to recall emails sent in error.
OWA Recall is available for MS Exchange 2007 and 2010, supporting all modern browsers including Internet Explorer 6 (and later), as well as the latest versions of Chrome, FireFox, Opera and Safari. Even though OWA Recall works well with all these browsers there are some important differences to be aware of.
OWA Recall is installed on each Exchange 2007/2010 Client Access server. Once installed, starting the OWA Premium interface a new option is added to the left sidebar as shown in the screenshots that follow.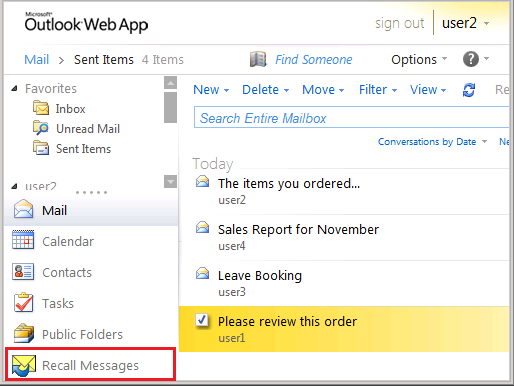 OWA Recall extension in Exchange 2010 OWA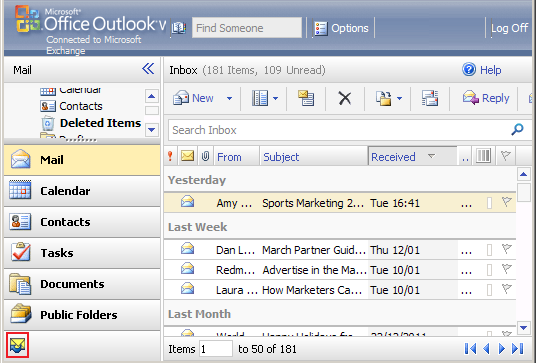 OWA Recall extension in Exchange 2007 OWA
Note how OWA Recall looks different in the screenshots for Exchange 2010 and 2007. The way the extension is displayed depends on the number of options present at the side-bar. Once the option count exceeds 6, additional side-bar entries are displayed as small icons.
Apart for the OWA Premium interfaces shown above, Exchange also provides the OWA Light interface. OWA Light is not extensible and thus the OWA Recall functionality is not directly available.
When logging onto OWA, which of the two interfaces is returned depends on the browser type in use. Exchange 2007 only provides OWA Premium when running Internet Explorer 6 and later. Exchange 2010 provides OWA Premium to IE7+, Chrome, FireFox and Safari (Mac only).
If working with a browser for which OWA returns the Light interface, it is still possible to access OWA Recall. However it is necessary to enter the extension URL directly at the browser address bar:
https://<Client Access server>/owa/forms/owarecall/owarecall.aspx
Users who regularly rely on OWA Light should keep a bookmark to this extension so that to be able to quickly submit recall requests.