Working with WinDeveloper OWA Recall
WinDeveloper Message Recall v2.0 introduced the new OWA Recall extension. This enables users to block delivery of emails sent in error directly from MS Exchange Outlook Web Access/App.
For many years MS Outlook has been providing the 'Recall This Message' command. However this functionality never made it into OWA. WinDeveloper OWA Recall is now bridging this gap, making recalling from OWA even more intuitive than in Outlook.
OWA Recall is installed on each Exchange 2007/2010 Client Access server. This adds a new option to the OWA Premium interface sidebar as shown in the screenshots that follow.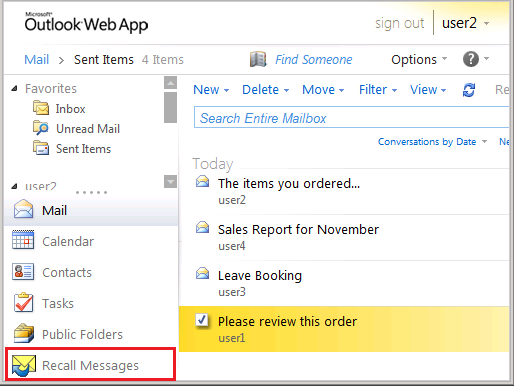 Note: All screenshots are taken from Exchange 2010. The same functionality is also available for Exchange 2007.
Note: The OWA Recall extension may look a bit different. The way the extension is displayed depends on the number of options present at the sidebar. Once the option count exceeds 6, additional sidebar entries are displayed as small icons.
Note: MS Exchange provides the OWA Premium and Light interfaces. OWA Premium is extensible, whereas OWA Light is not. When logging onto OWA, which of the two interfaces is returned depends on the browser type in use. If working with OWA Light, it is still possible to access OWA Recall by entering the URL:
https://<Client Access server>/owa/forms/owarecall/owarecall.aspx
Once OWA Recall is installed click on the sidebar button whenever you want to recall an email. This will open a new browser tab listing the emails under the Sent Items folder.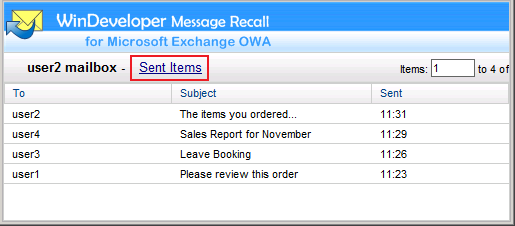 The OWA Recall page shows emails in batches of 50 sorted by date/time with the latest emails on top. If you need to navigate to emails sent earlier, use the navigation arrows shown at the top right corner.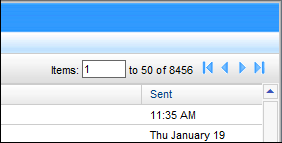 If you need to change the folder, click on the folder name link to open the folder selection list.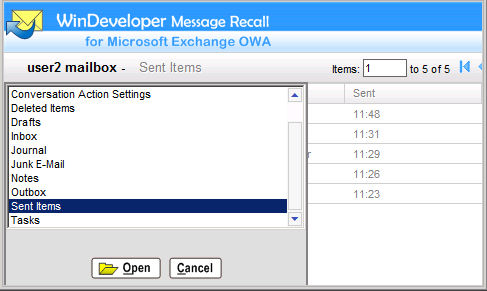 To change the current folder just select a new folder and click Open. Once you identify the email to be recalled, double click the email item.
The Recall This Message dialog that opens shows a summary of the email being recalled. At the bottom you have the options for submitting the Recall.
To specify whether notifications should be returned select/clear the checkbox Tell me if recall succeeds or fails for each recipient.
To submit the recall request, click on the Recall button. This will submit the request and the dialog switches to report whether this was submitted successfully.

Note: This dialog is only confirming that the recall request was submitted. Whether or not the recall is fulfilled will be reported through notifications (if requested).
Notifications will be delivered to the Inbox, so we can close OWA Recall and move back to OWA. This is how a success notification looks like. It is identical to the notifications MS Outlook generates.