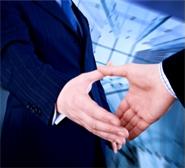 Hiring a Software Development Consultant means getting the right knowledge mix exactly when you need it.
Starting a new project? Enhancing an existing one? Make sure you have the right expertise to do the job.
The consultancy options are very flexible. You can choose to outsource anything from research, design, single module development, or an entire product. Licensing and transfer of rights can be tailor made to your needs.
For more details contact the WinDeveloper Technical Director Alexander Zammit via email:
alex@windeveloper.com
If you have problems contacting us through email fill in the contact form.

WinDeveloper to provide consultancy for Mail Cruncher on the Windows platform.
Mail Cruncher, a new anti-spam service, relies on a "business trust rating" database called the Outbound Index. Emails are sorted based on facts. Through WinDeveloper, Mail Cruncher will now integrate with MS Exchange. The new MS Exchange product will provide anti-spam protection at an SMTP protocol level. Mails are hence classified immediately before delivery to the server.
Here is what April Lorenzen said as regards WinDeveloper in an interview with The Times Of Malta:
"Alex is a highly valued member of our team; he has over 10 years of specialized experience in anti-spam and e-mail productivity and we believe he is one of the top experts in the world regarding anti-spam plug-ins for the Microsoft Exchange server. It is a pleasure to have Mr Zammit as a contributor on our team," - April Lorenzen

WinDeveloper to provide consultancy to Axacore.
Their reaction on delivering the project:
"Everything worked perfect. Very nice work on the implementation and easy to understand documentation. I created a cpp program and got it working is 5 minutes." - Nick Basil