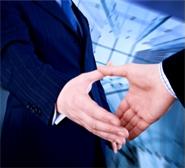 WinDeveloper believes in combining best of breed solutions with highly competitive pricing. Sell WinDeveloper software and transform our solutions into your business advantage.
Partnership for Growth
Offer your clients innovative technology that delivers true value for money.
We believe in establishing strong partnerships. The partnership program recognizes your value and ensures our businesses grow together.
The multi-level program immediately enables new partners to start sharing into our success. This helps you experience the value of our products and the benefits of partnership. Committed partners are rewarded with higher margins and closer cooperation in marketing and sales promotions.
| | |
| --- | --- |
| Entry Level | Evaluate our products, register and start selling immediately. |
| Bronze Level | Move from the Entry Level by completing sales in excess of USD 1000 |
| Silver Level | Establish with us your next sales targets. Apart from the increased margins you also achieve the recommended reseller status. Customers requiring consultancy services are referred to resellers in this and higher tiers. |
| Gold Level | Retain your sales targets over time consolidating your partnership. At this level you achieve the highest recommended status. You also become an integral part of our marketing and sales promotions. |