WinDeveloper Coin Tracker, All Your Crypto Assets under 1 Roof
We are pleased to announce the release of WinDeveloper Coin Tracker, an application that brings all your crypto assets under one interface. You can now monitor the value of all your cryptocurrencies with a single application, even if these span multiple wallets and crypto exchanges.
Once users start acquiring and trading cryptocurrencies, they quickly discover the many options available to them. Online or offline wallet? Which crypto exchanges to use? Which cryptocurrencies are worth investing in? Day trading or longer term?
Very often one ends up having to deal with multiple interfaces. It is easy to end up with a mix of wallets, crypto exchanges and many cryptocurrencies in the pocket.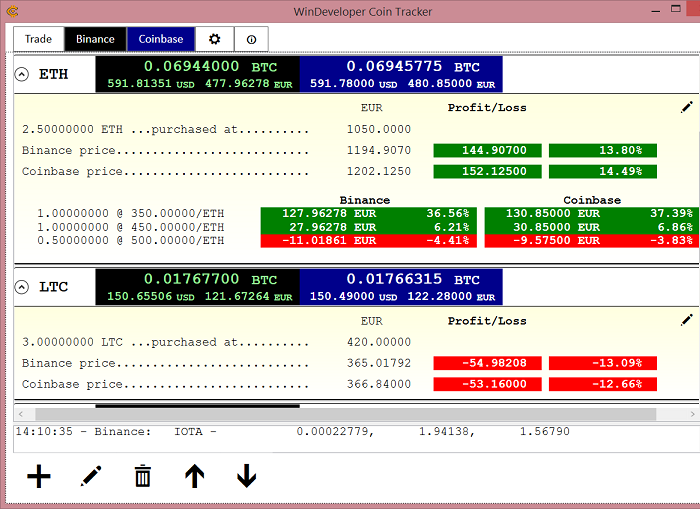 This is what Coin Tracker is all about. Focusing on the investor, owned assets take the centre stage. Supporting a long list of coins, users see the current profit/loss for each of their investments. Different price points for the same coin can also be monitored, giving a more detailed picture of their investment performance.
The Coin Tracker pulls information from different crypto exchanges and shows their spot prices side-by-side. Two of the most popular exchanges Binance and Coinbase are supported. Work is underway for other exchanges to be included, so that users can easily choose their preferred exchanges.
The Coin Tracker is available for free and runs as a desktop application on Windows 10, Windows 8 and Windows 7. Download this now from the WinDeveloper website.
All product and company names herein may be trademarks of their respective owners.