Breaking large Mailings into Batches
When dealing with large mailings it is sometimes desirable to break it into smaller batches and send these separately. The Mailing Wizard provides the ability to do this but there is a catch we need to be aware of.
At the Mailing Wizard, move forward to the 'Ready to Go' step and use 'Send email to' | 'Only database entries in this range' to break down the mailing. To send the first 100 emails set the lower limit to 1 and the upper to 100. To send the next 100 emails re-run the Wizard setting the lower limit to 101 and the upper limit to 200. When it comes to the last batch we can set the upper limit to 'end' so that we don't need to know the exact number of database entries.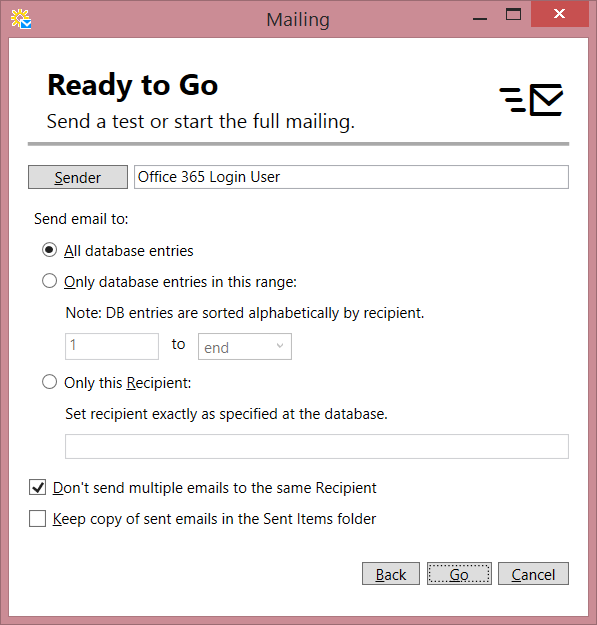 This approach has one limitation. The Wizard allows us to automatically filter repeated recipient addresses. This is done by setting the checkbox 'Don't send multiple emails to the same Recipient' from the 'Ready to Go' Wizard step. Sending mailings into batches breaks this functionality. Imagine having 2 batches. The first batch includes someone@domain.com. The same address appears in the second batch. In this case the recipient receives a second email when processing the second batch.
Database Views can be helpful in solving this problem. The View could implement duplicate recipient filtering directly, relieving the Mailer from this task. We can then safely use the Wizard paging functionality without worries.