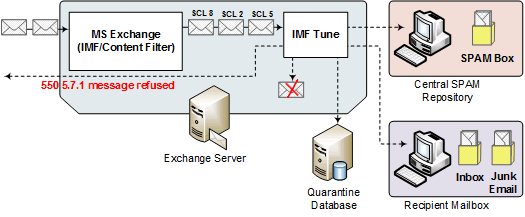 Exchange 2007/2010/2013/2016/2019 Support - Extensive Exchange version support including all of Exchange 2007, 2010, 2013, 2016 and 2019. Server platform support includes Windows 2008 R2 up to Windows Server 2019.
Multiple SCL Threshold Configuration - Configure individual SCL ratings or ranges with a unique set of options including archiving, logging, attachment stripping, subject tagging, auto-replies, rerouting, rejection, deletion and more.
Sender Auto-Whitelisting - Let IMF Tune automatically discover the foreign contacts your users are exchanging emails with. Subsequent emails are automatically whitelisted relieving you from manual configuration.
DNS White/Block List Filters - Subscribe to DNS List providers to block/allow emails or just raise/lower the current spam rating.
Whitelisting/Blacklisting - At the server maintain global and per user white/black lists. Identify legitimate emails and spam by IP, sender, recipient, subject, any email header, body keywords, attachment names and more.
Central Email Quarantine - Retain copies of blocked emails on disk. Optionally publish Quarantines to an SQL Database. Let IMF Tune automatically manage the email archive, compressing, backing-up and deleting old emails.
Resubmit Blocked Emails from Browser - Install the included IIS Web Moderator/Reporting interface for the Quarantine system to be accessible from anywhere. The moderator supports the latest version of all major browsers.
Filter Performance Graph/Chart Reports - From the browser, access real-time reports to monitor the filtering effectiveness. See how emails are being rated, the rejection rate, the list of top spam sources and many other reports.
Integrate any Anti-Spam Filter into Exchange - Run spam filtering on ANY platform, firewall appliance, external service provider without losing Exchange integration.
CSV Logging - Keep record of each email, including any actions applied, the source IP, addresses, subject and SCL rating as a concise audit trail.
Multiple Condition/Exception Filtering Rules - Construct rules by combining multiple conditions and exceptions to accurately identify legitimate and spam emails.
Insertion of SCL Ratings in Subject - Expose SCL ratings to all users from the server. Insert an SCL subject tag or add a custom header.
Fine Tune SCL Assignments - Influence the email filtering logic. Identify keywords that should lead to higher or lower SCL ratings.
Attachment Filtering - Block/Allow email delivery by attachment name or attachment media type.
Foreign Spam, NDR Spam, SMTP Protocol Command Data - Let IMF Tune dig all the information for you to express the most effective email filtering criteria.
Spam Rerouting to Mailbox or Public Folder - Retain all emails within a single repository. Eliminate disk archiving and access filtered spam from Outlook.