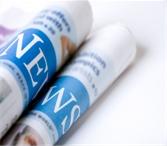 Keep up with the latest updates from WinDeveloper by subscribing to the RSS feed. Supply the URL that follows to your RSS reader/news aggregator: http://www.windeveloper.com/news/rss.xml
Tue, 14 Oct 2014
Last week IMF Tune v7 reached final release. Here is an overview of the most important additions and changes introduced in this version.
Thu, 09 Oct 2014
IMF Tune v7.0 Final Release is now available for download bringing DNS Lists, SQL 2014 support, automatic database compression and more.
Tue, 07 Oct 2014
The current IMF Tune v7 build (7.0.108.28) does support the latest Exchange Cumulative Update and Update Rollups; Exchange 2013 Cumulative Update 6, Exchange 2010 Update Rollup 7 for SP3 and Exchange 2007 Update Rollup 14 for SP3.
Mon, 29 Sep 2014
Updated IMF Tune v7 guides available for download.
Mon, 01 Sep 2014
IMF Tune v7 Release Candidate is now available for download. While edging closer to the final v7 release, this build brings DNS URI Block List filtering and fixes a known issue.
Wed, 09 Jul 2014
Now that IMF Tune v7 has been available as beta for some weeks here is a little status update. Today we have details on a new highly requested feature and information about a known issue with the current version 7 build.
Fri, 06 Jun 2014
IMF Tune v6 and IMF Tune v7 are both ready for Exchange 2013 Cumulative Update 5 and Exchange 2010 SP3 Update Rollup 6. Furthermore the problems identified in Exchange 2013 SP1 are fixed in CU5.
Thu, 15 May 2014
This article discusses various upgrade/migration scenarios you may encounter when deploying IMF Tune v7. In both Upgrades and Migrations our primary goal is to retain the configuration settings of the old IMF Tune installation.
Tue, 13 May 2014
DNS IP List filtering is included in IMF Tune v7 for Exchange 2007, 2010 and 2013. Here is what this feature looks like.
Thu, 08 May 2014
IMF Tune v7 BETA is now available for download. The highlight of this release is the support for DNS Block/Allow Lists. Version 7 is bringing back the Connection Filtering functionality that many Exchange 2013 users are missing.
Tue, 11 Mar 2014
A few days ago Microsoft released the highly anticipated Service Pack 1 for Exchange 2013. Unfortunately this caused all third party transport agents to fail. Microsoft quickly solved this problem with a fix that has to be applied for IMF Tune to work.
Tue, 28 Jan 2014
IMF Tune v6 still supports the venerable Microsoft SQL 2000 server version. As from the next IMF Tune release, this will no longer be the case.