What's New in IMF Tune v7.0
Last week IMF Tune v7 reached final release. Here is an overview of the most important additions and changes introduced in this version.
1. DNS Lists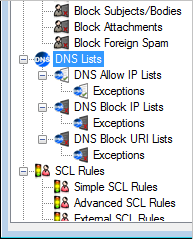 IMF Tune adds support for DNS IP Allow/Block Lists and DNS URI Block Lists.
We updated various components to make sure this functionality is well integrated into the filter. To begin with, DNS Lists need not be limited to white/black listing. Just like SCL Rules, we can choose to raise or lower the current spam rating instead. This is useful when evaluating a DNS List. A block list could be initially configured to raise the SCL rating by 1. All matches will show up at the reporting output where we can review what is being filtered. When satisfied with the DNS List we can then filter more aggressively.
Here is what the DNS List Provider configuration looks like highlighting the options for lowering/raising the spam rating.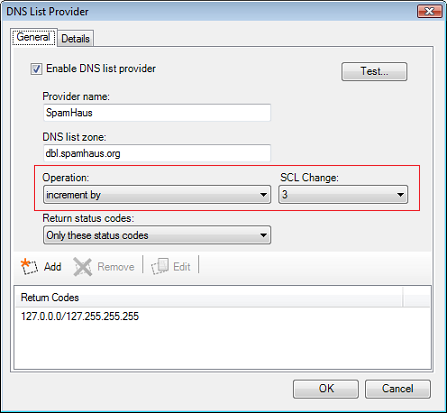 Reporting is key whenever evaluating filtering effectiveness. Keyword Reporting and the Moderator/Reporting Web interface were extended to support DNS Lists too. Here we find DNS List matches side-by-side with other matches.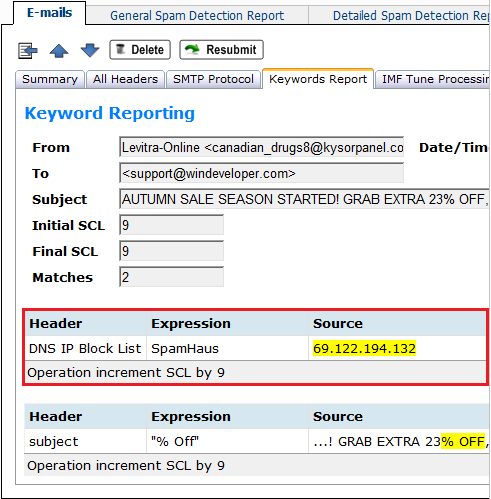 To complete DNS List support we also have a little testing tool for manually submitting queries. Open this from the DNS List Provider configuration. Depending on the list type enter the IP or URI to be tested.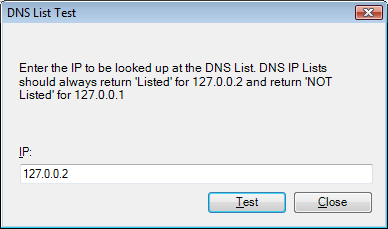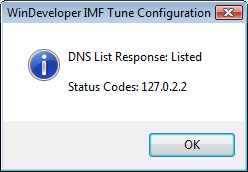 2. IP Range Configuration
Until now, whenever configuring IPs, IMF Tune only allowed for the entry of single IPs and IP/mask pairs in the formats:
xxx.xxx.xxx.xxx
xxx.xxx.xxx.xxx (mmm.mmm.mmm.mmm)
For example the static IP Allow/Block lists allow us to manually enter or to import IPs in these formats. Same goes for External SCL Rules that match the sender IP.
Using IP/mask pairs one can specify an IP range. However very often this is not flexible or intuitive enough. So in version 7 we are also supporting IP ranges in the format:
xxx.xxx.xxx.xxx/yyy.yyy.yyy.yyy
Here xxx.xxx.xxx.xxx is the lower IP range limit and yyy.yyy.yyy.yyy is the upper limit.
Now whenever dealing with IP lists we can mix any of the three IP entry formats shown above. Here is an example: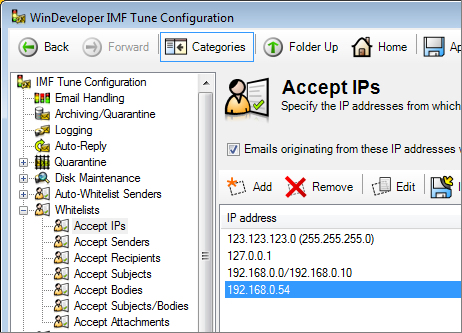 3. Moderator Web Interface - MS SQL Server Support
The IMF Tune Moderator/Reporting Web Interface relies on an MS SQL backend database.
IMF Tune v7 adds support for MS SQL 2014. At the same time support for MS SQL 2000 is being discontinued.
So now all MS SQL versions from 2005 to 2014 are supported. The free MS SQL Express editions are also supported.
4. Automatic Database Compaction
For a long time IMF Tune included wdbcompact.exe. This is a little known command line tool that purges free space from the IMF Tune configuration database files. Compaction reduces file size, keeps the configuration databases healthy and also improves configuration access speed.
Wdbcompact is still included, but there will be little need to run it in IMF Tune v7. This operation is now automatically performed by the IMF Tune configuration.
If a badly fragmented database is found on opening the configuration, opening may take a little longer to complete. This may happen if IMF Tune was just upgraded from an earlier release. However thereafter the databases will stay in good shape and opening the configuration won't be slowed down again.
Version Information
This information applies to IMF Tune v7.0 Final Release build number 7.0.110.01. If IMF Tune is already installed you can verify the current build number from the configuration interface under the Miscellaneous category.