What's New in IMF Tune v5.5
Version 5.5 delivers a web based reporting and email moderation interface. The interface is implemented as an IIS ASP.NET application and is installed separately from the IMF Tune server itself.
Thus IMF Tune now includes two installation components:
IMF Tune Server for Exchange 2003, 2007 and 2010.
IMF Tune Moderator/Reporting Web Interface
We designed this update very carefully such that to render the web interface an independent component. The IMF Tune Server still implements all the functionality you have been accustomed to. Indeed it is possible to run IMF Tune v5.5 without ever installing the Moderator/Reporting component.
Of course we do encourage you to install the Moderator/Reporting interface. This will allow you to tap into all the new functionality.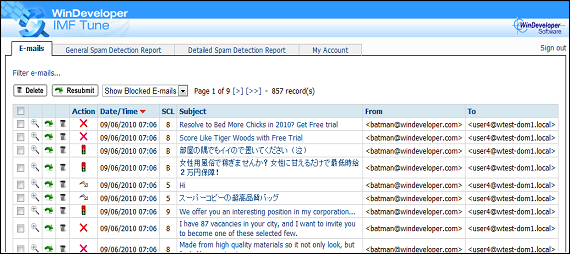 The web interface need not be installed on the same machine where the IMF Tune server is installed. It requires a Windows 2003, 2008 or 2008 R2 server platform (32-bit/64-bit), IIS6 or later and the .NET 2.0 framework.
The new functionality also requires an MS SQL Server. This is where IMF Tune will publish all the information exposed by the web interface. We are supporting all MS SQL Server versions from MS SQL 2000 upwards. Also supported are the free MS SQL Express Editions.
Web Interface Overview
As you can imagine, the Moderator functionality allows us to look into the emails IMF Tune is processing. Blocked emails may be resubmitted for delivery to the originally intended recipients.
However this is not all. Indeed we tend to look at this interface as a Reporting tool even more than a Moderation tool. To begin, here we can publish any processed email. Apart for blocked emails, we can configure IMF Tune to also publish Whitelisted and other accepted emails. The web interface view filtering may then be used to quickly choose which emails to list.
One reason why you may want to publish emails that were not blocked is for analyzing Whitelist performance. You might have used IMF Tune HTML Keyword Reporting in the past for this purpose. In comparison Keyword Reporting only exposes a tiny fraction of the information available from the web interface.
For each published email we provide plenty of information. Indeed here we made our best effort at publishing as much information as possible.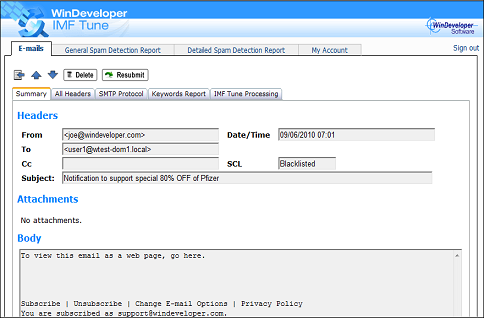 Apart for publishing the typical email information shown above, we also include:
All Headers - The full list of email headers
SMTP Protocol - IP, EHLO, MAIL FROM, RCPT TO command data
Keyword Report - This is the snippet of the Keyword Report relevant to the current email
IMF Tune Processing - Information concerning other IMF Tune server operations including logging, archiving, server-side keyword reporting and auto-replies
Apart for exposing individual emails, the web interface includes two report types, the General Spam Detection Report and the Detailed Spam Detection Report.
The General Spam Detection Report provides a set of graphs and bar charts describing the overall filter performance.
The list of report headings here includes:
How many e-mails were Accepted, Rerouted, Deleted, Rejected by IMF Tune?
How many e-mails were Re-Submitted (Accepted) or Deleted at the Moderator?
How many e-mails did each SCL rating match?
Daily e-mail load/spam
Daily SCL ratings
Day of week e-mail load/spam
Hour of the day e-mail load/spam
Last 5 hours e-mail load/spam per minute
The Detailed Spam Detection Report provides more specific information on the emails being processed.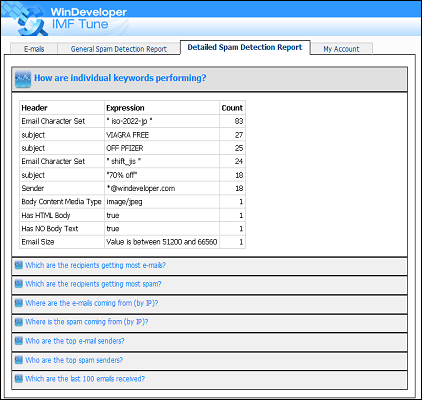 The list of report headings here includes:
How are individual keywords performing?
Which are the recipients getting most e-mails?
Which are the recipients getting most spam?
Where are the e-mails coming from (by IP)?
Where is the spam coming from (by IP)?
Who are the top e-mail senders?
Who are the top spam senders?
Which are the last 100 emails received?
User Access
With an interface that can be used for Reporting and Moderation, it was immediately obvious that different users would require different access levels. Some usage examples follow:
Regular email users might require the ability to directly review emails addressed to them blocked at the server. General reporting might not be relevant, while detailed reporting might disclose too much confidential information.

Management might want to access the General Reporting graphs and charts without any access to published emails.

An Administrator may require full access to closely monitor filtering performance and to act as a central contact for releasing emails.
We have catered for these different user types by defining a set of Rights that enable/disable access to individual features.
This is how the account information looks like from the web interface.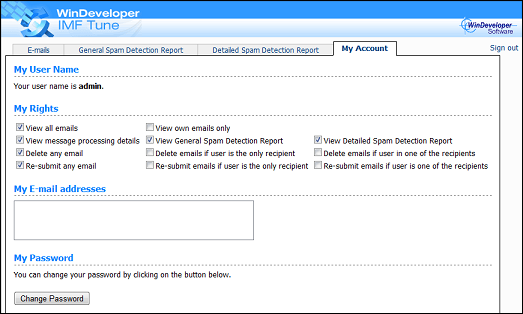 Most of this information is read-only. Users are created and configured from the IMF Tune Server Configuration interface. From the web interface a user is only able to change the login password.
Upgrading
The IMF Tune v5.5 server can be installed directly on top of IMF Tune v5.x and v4.x installations. This allows the installation to convert all configuration settings automatically. Earlier IMF Tune versions can be upgraded by uninstalling the older release and installing version 5.5 to the same disk location. For a detailed discussion of all possible upgrading/migration scenarios please refer to Upgrading/Migrating to IMF Tune v5.5.
Version Information
This information applies to IMF Tune v5.5 build number 5.5.007.16. If IMF Tune is already installed you can verify the current build number from the configuration interface.
In IMF Tune v3 and earlier the build number is available under the WinDeveloper category.
In IMF Tune v4 and later the build number is available under the Miscellaneous category.