IMF Tune v5 is introducing significant changes in a number of areas. This includes platform support changes, new functionality and significant product design changes.
IMF Tune v5 was one of the first anti-spam products to support Exchange 2010. It is a known secret that some 3rd party vendors are reluctant to support newer Exchange versions because of the advancements Microsoft is making in their built-in anti-spam functionality. At WinDeveloper we welcome these advancements, as these further enhance our filtering effectiveness.
With the addition of Exchange 2010, IMF Tune v5 supports all Exchange versions from 2003 to 2010. In case of Exchange 2007/2010, IMF Tune supports both Hub and Edge server transport roles.
Exchange 2010 introduced more scenarios for us to support. This has prompted us to revise the set of platforms to be supported by IMF Tune v5. Here we focused on the main stream scenarios where Exchange 2003, 2007 and 2010 are being employed today.
As a result we are discontinuing support for:
Windows 2000
Exchange 2007 32-bit evaluation build (of course we still support Exchange 2007 64-bit)
Whereas Microsoft discontinued Windows 2000 support some years ago, Exchange 2007 32-bit is only available for evaluation purposes. Thus we expect the impact of this change to be minimal.
The following table summarizes all the supported platforms for IMF Tune v4 and v5.
| | | |
| --- | --- | --- |
| Platform | IMF Tune v4.x | IMF Tune v5 |
| Windows 2000 (32-bit), Exchange 2003 | * | |
| Windows 2003 (32-bit), Exchange 2003 | * | * |
| Windows 2003 R2 (32-bit), Exchange 2003 | * | * |
| SBS 2003 (32-bit), Exchange 2003 | * | * |
| SBS 2003 R2 (32-bit), Exchange 2003 | * | * |
| Windows 2003 (32-bit), Exchange 2007 | * | |
| Windows 2003 R2 (32-bit), Exchange 2007 | * | |
| Windows 2003 (64-bit), Exchange 2007 | * | * |
| Windows 2003 R2 (64-bit), Exchange 2007 | * | * |
| Windows 2008 (32-bit), Exchange 2007 | * | |
| Windows 2008 (64-bit), Exchange 2007 | * | * |
| SBS 2008 (64-bit), Exchange 2007 | * | * |
| Windows 2008 (64-bit), Exchange 2010 | | * |
| Windows 2008 R2 (64-bit), Exchange 2010 | | * |
IMF Tune v5 introduces significant changes in the core processing engine design. The goal here was to better harness the extensive processing power available to server applications. The results of these design changes can be summarized as follows:
Optimized use of multi-core processors and multiprocessor server resources.
Improved prioritization of email processing tasks, such that the email spam classification is determined in the shortest time possible.
IMF Tune is now better splitting its processing over different processor cores. At the same time IMF Tune gives priority to the assignment of spam ratings (SCLs) over other tasks such as reporting, archiving, auto-replies etc.
Thus the ultimate fate of an email is determined expeditiously. If legitimate, this is immediately freed for delivery. Any additional processing related to the same email is performed off-line in a separate process. This results in significant improvements in terms of engine responsiveness.
IMF Tune v5 logs are now encoded in UTF-8. In Version 4, logs were written using the Windows 1252 character set.
IMF Tune v5 enhances attachment filtering support both through dedicated white/black lists and SCL Rules.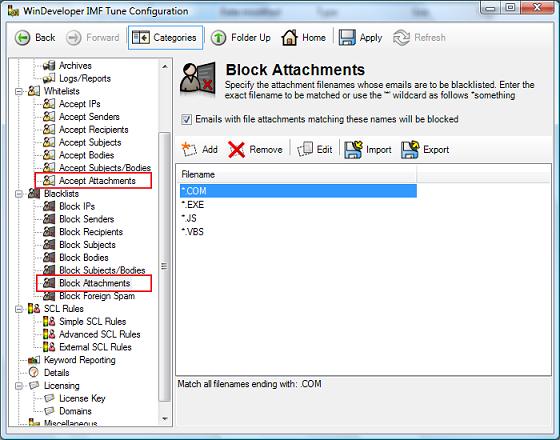 In case of Simple and External SCL Rules, we added a new type for identifying Attachments.
As for Advanced Rules we have a new condition type.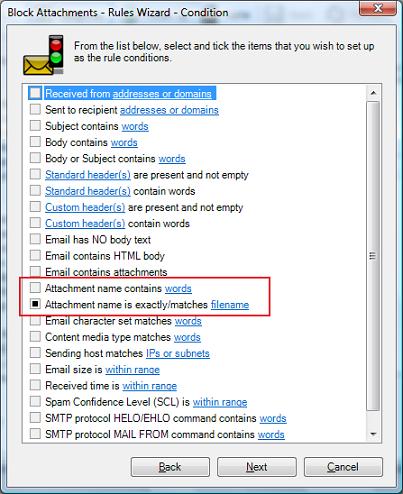 In all, we now have two Advanced Rules condition types for testing attachment names:
Attachment name contains words (same as in IMF Tune v4)
Attachment name is exactly/matches filename (new in IMF Tune v5)
Whereas the first condition type looks for keywords anywhere in the attachment name. The second allows for exact filename matching and for the use of the '*' wildcard.
IMF Tune v5 now supports importing and exporting of SCL Rules. In version 4 this functionality was only available for white/black lists.
Rules are exported to a proprietary binary format. Exported Rules can be imported back to the same IMF Tune installation or to other server machines. Thus this functionality could be employed to restore a Rule that was deleted, or as a simple method to replicate rules across servers.
The Rule import/export operation will only save/write the Rule settings at the configuration database. Thus when importing External Rules that originate from another machine, it is important to make sure that any external file references are not orphaned. If necessary, external files will need to be transferred manually.
IMF Tune V5 introduces a new configuration backup/restore wizard. The Wizard includes all the functionality that is today provided by the IMFTBak.exe command line tool.
The Wizard is more flexible than IMFTBak when handling Restore operations. It is now possible to either perform a full restore or to only restore specific configuration categories. For example you can choose to restore blacklists without overwriting any other settings.
IMF Tune v4 includes a number of modules dependent on the Microsoft .NET framework version 1.1. Although this framework is readily available on all supported platforms, we encountered a number of cases where this framework was not functioning correctly. By eliminating these dependencies we are clearing all problems encountered in this area.
As a result IMF Tune is now dependent on the Microsoft .NET framework version 2.0. This framework is readily available on the Windows 2008 and Windows 2008 R2 server platforms. In case of Windows 2003 IMF Tune will detect and automatically install this component as necessary.
IMF Tune v5 can be installed directly on top of IMF Tune v4.x installations. This allows the installation to convert all configuration settings automatically. Earlier IMF Tune versions can be upgraded by uninstalling the older release and installing version 5 to the same disk location. For a detailed discussion of all possible upgrading/migration scenarios please refer to Upgrading/Migrating to IMF Tune v5.
IMF Tune v5 will run in 30 day evaluation mode on first install. Following that, extended evaluation licenses will be provided on request.
Please note that IMF Tune v4.x licenses will not work with IMF Tune v5. We will be providing free upgrade licenses to users that have a valid Maintenance Agreement once IMF Tune v5 reaches final release.