Fix for running IMF Tune on Exchange 2013 SP1
A few days ago Microsoft released the highly anticipated Service Pack 1 for Exchange 2013. Unfortunately this caused all third party transport agents to fail. Microsoft quickly solved this problem with a fix that has to be applied for IMF Tune to work.
We completed our IMF Tune testing for the newly released Exchange 2013 Service Pack 1. These confirmed that IMF Tune requires Microsoft's KB2938053 fix for it to work.
The tests were run against the latest IMF Tune build to date, build# 6.1.108.31.
This article explains the type of problems we encounter if IMF Tune is installed on an unpatched Exchange 2013 SP1 server and how to solve the problem with KB2938053. Here we cover both the fresh install and the upgrade scenarios.
Fresh IMF Tune Install on Exchange 2013 SP1
Scenario: Making a fresh IMF Tune install on an Exchange 2013 Service Pack 1 server.
In this scenario Exchange 2013 Service Pack 1 is already installed but KB2938053 is not yet applied.
Installing IMF Tune v6.1 (Build# 6.1.108.31) causes the installation to complete with the error:
ERROR: Failed on installing the IMF Tune Filtering Agent. Please contact WinDeveloper Support on support@windeveloper.com

The installation completes without installing the IMF Tune transport agents. Emails flow through the transport but IMF Tune won't filter anything.
Furthermore whenever opening the IMF Tune configuration an error pops-up to remind us that required IMF Tune components are missing.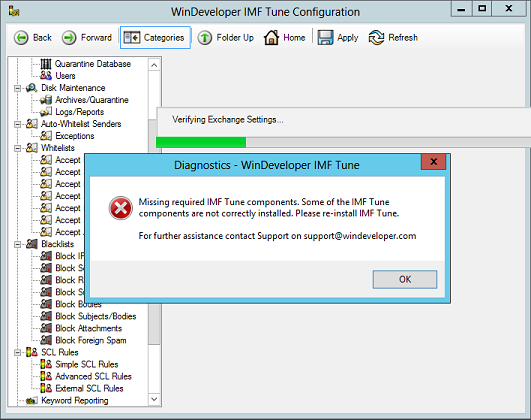 Fixing the Installation
Apply the KB2938053 fix.
Run the IMF Tune installation to re-install whilst retaining the current configuration settings.
Upgrading an Exchange server running IMF Tune to Exchange 2013 SP1
Scenario: Initially we have a healthy Exchange 2013 RTM/CU1/CU2/CU3 with IMF Tune installed. We then upgrade Exchange 2013 to Service Pack 1.
Here we start from a working IMF Tune installation running on Exchange 2013. SP1 is not yet installed. On applying SP1 the Microsoft Exchange Transport service fails to start.
In this scenario email flow is stuck so it is imperative to fix the problem immediately.
If we try to start the Exchange Transport we can observe MSExchangeTransport application event log error 16023 and MSExchange Extensibility error 1052.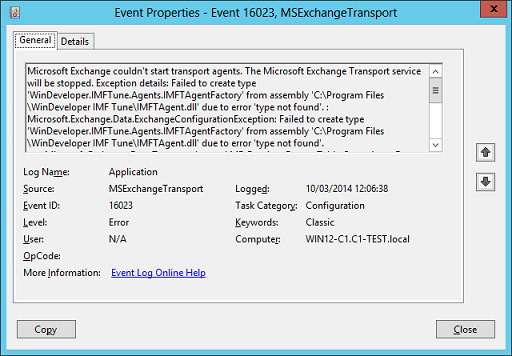 Both of these events report problems with the IMF Tune transport agents:
"Microsoft Exchange couldn't start transport agents. The Microsoft Exchange Transport service will be stopped. Exception details: Failed to create type 'WinDeveloper.IMFTune.Agents.IMFTAgentFactory' from assembly..."
Fixing the Installation
Apply the KB2938053 fix.
From the Service Control Manager start the Microsoft Exchange Transport service.
Applying KB2938053 Fix
The KB2938053 fix is applied after completing the Exchange 2013 SP1 installation. Here are the steps:
Follow the link:
KB2938053 - Third-party transport agents cannot be loaded correctly in Exchange Server 2013

Click the Fix it button.

At the Download box click Open to download and run the fix.

The Microsoft Fix It Solution wizard starts

Click Next to start running the fix.

Click Next and Close to complete the Wizard.