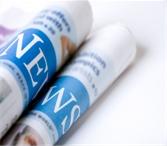 Keep up with the latest updates from WinDeveloper by subscribing to the RSS feed. Supply the URL that follows to your RSS reader/news aggregator: http://www.windeveloper.com/news/rss.xml
Wed, 26 Oct 2005
IMF Tune v2.6 final release is now available.
Wed, 19 Oct 2005
We just released IMF Tune v2.6 beta. With this update we are readying IMF Tune for the upcoming Exchange SP2 release and adding more functionality.
Tue, 04 Oct 2005
IMF Tune, in its latest release, opens Exchange integration to all anti-spam solutions. Filters running on any platform, on firewall appliances, and even at external service providers, suddenly become an integral part of Exchange.
Wed, 21 Sep 2005
Case Study: Kaz Incorporated
Thu, 11 Aug 2005
On Thursday 4th August we released a new IMF Tune build. This update brings a few highly requested features and a fix.
Tue, 28 Jun 2005
WinDeveloper announced the release of IMF Tune v2.5. The product further builds on the Exchange Intelligent Message Filter adding support for Whitelisting, Blacklisting and SCL Management.
Mon, 06 Jun 2005
We are pleased to announce the beta release of the new IMF Tune version. There is enough new stuff for the product to have its minor version incremented to 5!
Thu, 05 May 2005
WinDeveloper announced the release of its new anti-spam product WinDeveloper IMF Tune. The product builds on top of the Exchange 2003 Intelligent Message Filter (IMF). It extends IMF rendering it a first class anti-spam solution.
Mon, 11 Apr 2005
Following the highly successful release of WinDeveloper IMF Tune freeware a commercial version of the product is to be released in the next few weeks. The new product builds on the original IMF Tune concept, that of extending the MS Exchange Intelligent Message Filter to unleash its full power.