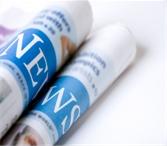 Keep up with the latest updates from WinDeveloper by subscribing to the RSS feed. Supply the URL that follows to your RSS reader/news aggregator: http://www.windeveloper.com/news/rss.xml
Tue, 05 Jul 2011
With today's spam loads, the IMF Tune Quarantine may sometimes end up filled with thousands of spam emails. IMF Tune does not provide a "Delete All" button but does provides a solution through the Quarantine Maintenance functionality.
Wed, 15 Jun 2011
We are pleased to confirm support for the Small Business Server SBS 2011 platform. Both WinDeveloper IMF Tune and WinDeveloper Message Recall products successfully passed all tests. Testing was performed using the latest builds currently available for download.
Mon, 16 May 2011
We tested the IMF Tune Moderator/Reporting Web Interface and are pleased to confirm that Internet Explorer 9 works much better than earlier IE releases. In some cases IE9 was more than 3 times faster than IE8. Thus we certainly encourage IE8 users to move to IE9.
Tue, 26 Apr 2011
ManageAWL, a little command-line tool for extracting the IMF Tune Sender Auto-Whitelist address list, is now available for download.
Wed, 30 Mar 2011
This document describes how to manually setup the IMF Tune Moderator Web Application on Windows 2008/2008 R2 server platforms running IIS 7.0/7.5
Thu, 24 Feb 2011
Is this spam email too tricky to block? Here is how we deal with some of the current spam waves. From RBLs to Keyword Expressions, we discuss practical ways to keep the Inbox clean.
Thu, 13 Jan 2011
IMF Tune version 5.6 is introducing the new Sender Auto-Whitelisting functionality. In this video we configure and see how this feature works.
Tue, 11 Jan 2011
Version 5.6 is now available for download! Get started with the latest release and checkout the new Sender Auto-Whitelisting functionality.
Tue, 11 Jan 2011
This article discusses various upgrade/migration scenarios you may encounter when deploying IMF Tune v5.6. In both Upgrades and Migrations our primary goal is that of retaining the configuration settings of the old IMF Tune installation.
Mon, 10 Jan 2011
The Microsoft Exchange Content Filter/Intelligent Message Filter is being pushed to embrace self-learning technologies. The latest WinDeveloper IMF Tune release is adding auto-whitelisting, allowing these filters to augment their spam learning with Organization specific data.